Home
»
ID Cards Maker Software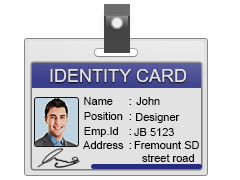 Create printable professional identification cards for staff members, school students and employees with ID Cards Maker Software!
ID Cards Maker Software designs and prints professional identification cards for employees, students, travel agent, security guard and other people. ID card creator software uses pencil, text, line, ellipse and other ID card designing tools to create professional identification cards.
ID Cards Design Software provides an option to include barcode on your identification card. You can generate multiple copies of ID cards with different barcode value. ID card maker allows you to generate customize as well as standard identification cards in bulk.