Home
»
ID Cards Maker (Corporate Edition)
ID Cards Maker (Corporate Edition)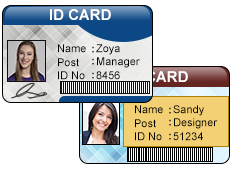 Generate and print various types of ID cards including student ID cards, employee ID cards, security ID cards, visitors ID cards etc.
ID Cards Maker (Corporate Edition) is useful to create ID cards with option to print using print-settings. Software has feature to save or export designed id cards as template, as PDF file format and as image (JPEG, PNG and other File formats).
Software provides specialist mode to design Gate Pass ID cards for visitors. You can also manage the database of entire visitors records for future reference. ID Card Maker Tool provides feature to create single (Front) or two (Front and Back) sided id cards.